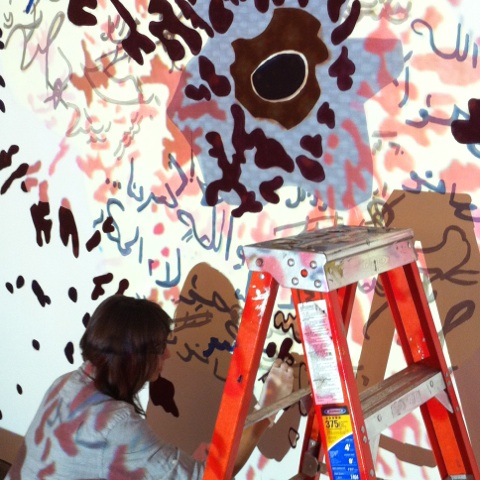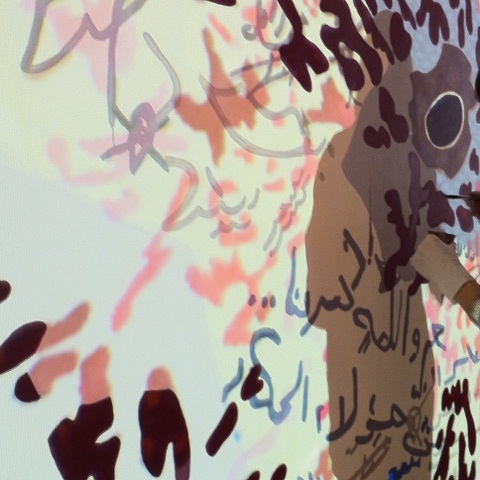 Aleppo 9-2012 (for Noura), 2014, handmade egg tempera, wall installation, dimensions variable. Installed at Portland Museum of Art, Maine, USA from January 2014-January 2015.
My vibrantly colored "blast" murals replicate the remnants of mortar shell explosions from the Syrian civil war and become contemplative bridges to original sites of violence. Aleppo 9-2012 carefully reconstructs the outline of an explosion remnant in the Ancient City of Aleppo near the Al-Madina Souq, a UNESCO World Heritage Site. In late September 2012 the historic souk and other nearby medieval buildings were engulfed by a major fire during fighting between the Free Syrian Army and the Syrian Armed Forces. The fire destroyed over 700 shops and marked the beginning of devastating violence in Aleppo, which continues today.
The graphic rendering of the pattern left on a nearby wall confronts the shattering force of such an explosion. Yet it also suggests art historical references, such as Islamic geometric patterns, fabrics and bricks from the lost souk, iconography drawn from Middle Eastern miniature painting and contemporary graffiti left by both civilians and Syrian Armed forces near the site of the explosion. This appropriation of diverse cultural inspirations challenges the artificial East-West dived as well as the vast gulf between the horrible and the beautiful.
A variation of this work debuted during the summer of 2013 as an artist in residence in Dubai, United Arab Emirates at the Jamjar Gallery.